Marmaris in October 2023 – is it worth going on seaside vacation? Weather, sea temperature, hotels and excursions prices. What to do in Marmaris in the middle of autumn, where to go – in the review of good Time for Trip.
Marmaris is in a sense a unique place. Even for Turkey!
A small town, it settled in a cozy bay literally on the border of the Aegean and Mediterranean seas. On the one hand, it's surrounded by wooded mountains, on the other – closed from the sea by islands. As a result the air here is almost always fresh, and the waves at sea are rare!
Is it any wonder that the tourists appreciated the beauty of such a location? And even outside the high season, the beaches of the Turkish resort aren't empty – foreigners continue their holidays here to the late autumn as if nothing had happened.
In September and October Marmaris is very popular among Turkish themselves, they come here in a powerful stream also.
Not according to reviews, from experience, they know perfectly well that a vacation in Marmaris in the beginning of October and even later will turn out to be truly luxurious. Not that memorable – due to regularity – but definitely allowing to relax and accumulate strength for the next labor achievements.
Weather in Marmaris in October
Liked by the vast majority of tourists. Only fanatical adherents of wild heat will remain dissatisfied. And – maybe – those vacationers, who like to swim in the sea, warmed up to the state of fresh milk.
And how can there be serious claims to such a climate?! Indeed, from the very beginning of October, the air temperature in Marmaris fluctuates within a narrow and extremely pleasant range: +25-30 °C.
This is during the day – at night the atmosphere cools down to quite acceptable +19-22 °C. And the need for blouses arises only among the most tender category of citizens.
Rains aren't very common. Although according to statistics they come on stage after a 4-month absence, the chance of encountering a prolonged downpour is minimal. But 3-5 rainy days per month, according to statistics, will definitely happen here in the middle of autumn.
Thus, nature makes it clear to holidaymakers that the season is close to completion. And then the "resort composition" will proceed in the direction of winter. Which in these parts, however, is not distinguished by exorbitant cruelty.
The sun in October Marmaris is still in abundance. And the chances of getting badly burned are much higher than getting wet.
Therefore, don't forget about the things required at south sea. However, they can always be purchased on the spot – in Marmaris you will find enough corresponding stores here.
Humidity
in the resort is always within acceptable limits. So no wonder the local climate is considered healthy. And it's tolerated by sensitive people much better than the same, for example, in October Alanya or Kemer.
Despite the fact that in mid-autumn the province of Mugla begins to be rained, the air remains relatively dry. This is due to the vast pine forests surrounding the bay. As well as the terrain – it's perfectly ventilated by continental winds.
Note that closer to November, Marmaris observes some cooling. The atmosphere during the day warms up only to +21-23 °C, at night – up to +15-17 °C.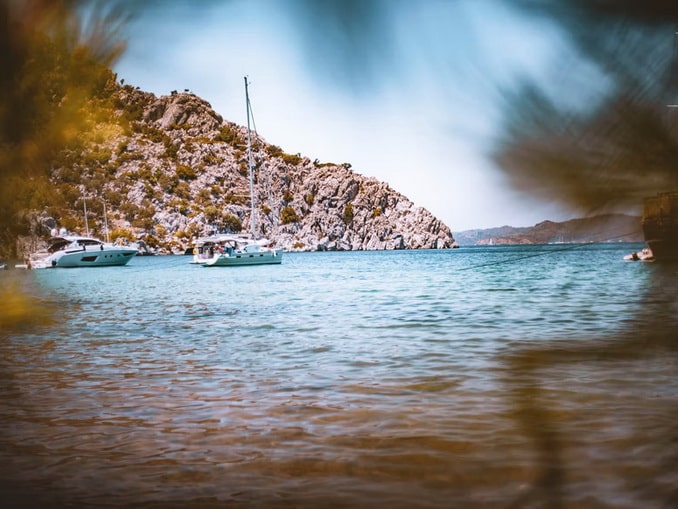 Sea Temperature
Although literally every review indicates that in October the sea in Marmaris can be called cool, it depends on what to compare with. If with Thailand or Maldives, then, undoubtedly, the local +23-25 ​​° C will cause goosebumps. But if you remember that the North Sea doesn't warm up above +20 ° C even in summer, then here in the middle of autumn you will swim without ceasing.
During October, the sea temperature near Marmaris gradually drops. But even at its end, the water area by noon retains a degree acceptable for long swims.
+22-23 °C – this can be envied in a good way!
Try to avoid city public beaches, it's better to go to the suburbs. After all, the same Nirvana Beach in Icmeler is much more clean and deserted … at this time of the year.
Epic beauty distinguishes nature in the bay of the village Turunc to the south of Marmaris. And if you are not going to stay at the hotel there, then you should at least go and see its charm.
Prices 2023
Not just comparable, but slightly higher than those in October Bodrum. It's not entirely clear why – after all, there is virtually no entertainment in Marmaris. Yes, and good beaches begin already outside the city limits.
As for hotels, you can find inexpensive options here. For example, not at all pretentious, but clean Moni Hotel will cost only 45 € for two per day. There is a swimming pool, breakfasts are included in the price, to the embankment – 5-7 minutes walk.
It costs the same, but is closer to the coastline of Defne & Zevkim Hotel. Deserving a lot of positive reviews for its excellent location in relation to the city center and beaches. As well as the cleanliness of the rooms and the customer focus of the staff.
As for excursions then a cruise along the Marmaris coast will cost, for example, 20-25 € per people. And a trip to Pamukkale will ruin you only by 30-40 €.
Would you mind going on your own? You can rent a car at this time for 18-25 € per day. With no mileage limit!
What to Do
There aren't so many private places for interesting leisure activities in Marmaris. And if young people will always find an opportunity to have fun – a big number of nightclubs and discos are located in the city and near – then older vacationers may get bored.
As this category of tourists will be able to please only walks along the well-groomed seaside promenade and streets. Between the whitewashed walls of houses, many of which are centuries old, up and down the stairs and cobbled lanes. Almost certainly and a delicious foods of traditional Turkish cuisine.
At some points, there're soothing views of the pretty low-rise city. Tiled roofs, bright spots of flower beds, turquoise seas and green islands…
There's no need to visit the local ancient fortress – you won't be able to discover anything new if you have been to such places before. However, the price of the entrance ticket is so low that it's worth entering.
Shopping in local stores will be good and profitable. So if you are going to bring something from Turkey as a gift or for yourself – spend a few hours visiting them. In the evenings, tourists like to crowd in cafes and restaurants, to watch the jets of the local singing fountain in a relaxed way.
Naturally, excursions are offered everywhere. Moreover, most foreigners certainly want to visit Cleopatra's beach. Once, as if especially beloved by the Egyptian queen. But judging by the reviews, much better investment would be a cruise to other islands in the bay.
Where to Go
If you don't like to stay in one place for a long time, go out to the Greek island of Rhodes. The cost of shipping back and forth, however, is a bit high: 70 € will have to be paid for an adult ticket on a catamaran. Or pay about 85-90 for a one-day tour, which includes a transfer from (to) your hotel.
And if you get to Rhodes, then pay a visit not only to the palace of the Grand Masters and the ancient ruins of Lindos, but also to the colorful island of Symi. Yes, for this you have to ride the ferry again. But the experience is worth it!
A relatively inexpensive way to have fun is an excursion from Marmaris to Pamukkale. Not least because the unique place is on its last legs. After all, local residents actively use mineralized water for domestic purposes. And today only 4-5 famous travertine pools are filled.
For those who dare to rent a car, a visit to Pamukkale is simply indicated!
215 km north of Marmaris are the ruins of a large ancient city of Ephesus. It's worth a trip if you've heard anything about the Trojan War, the legends about the love of Helen and Paris.
But not everyone will go from this resort to Cappadocia, in October just attracting travelers due to the beautiful sunny weather. Since 800 km of distance along the highway is difficult to overcome in less than 10-11 hours.
© Goodtimefortrip.com