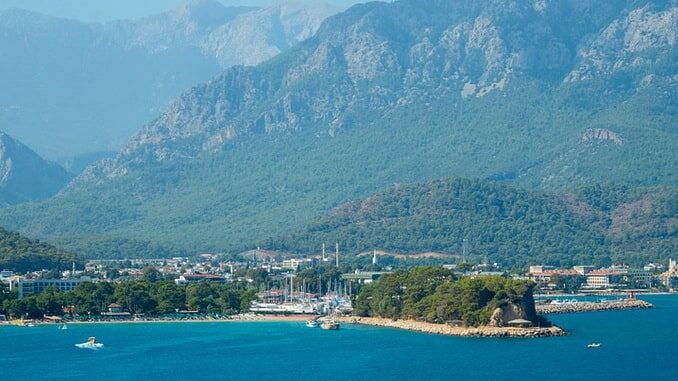 Turkey in June 2023 – where to go on vacation? Weather, sea temperature, prices in hotels and on excursions. Where is better to go on a seaside holiday in Turkey in early June and closer to July with kids – found out good Time for Trip.
Turkey is not yet the main beach destination for European and American tourists. However, in the coming years, everything can change dramatically: the prices for seaside holidays in this country are noticeably lower than European ones, the service, if inferior, is not much.
The high beach season in Turkey starts as early as June. And it ends late – not earlier than in October!
So tourists who know how to count money and not miss great opportunities will sooner or later come on holiday to Bodrum or Oludeniz, Kemer or Side. Those who have previously visited Istanbul and are aware of exactly how many attractions there are in this country have every reason to say that you shouldn't look for an alternative to vacationing on Turkish shores at all!
Offhand, there is only one significant drawback – at the peak of summer it's too hot here.
What is June like in Turkey – in terms of the weather and the sea temperature? What happens with hotel prices and the number of entertainment, how much less vacationers than in other summer months?
We tried to figure it out!
Weather in Turkey in June
It's characterized by a moderately hot character on the west coast and sometimes frankly sultry in the south. However, if you choose the "right" resort, you are unlikely to run into problems!
Even if your body doesn't accept high temperatures. Or, for example, can hardly tolerate high humidity.
However, firstly you need to visit
Istanbul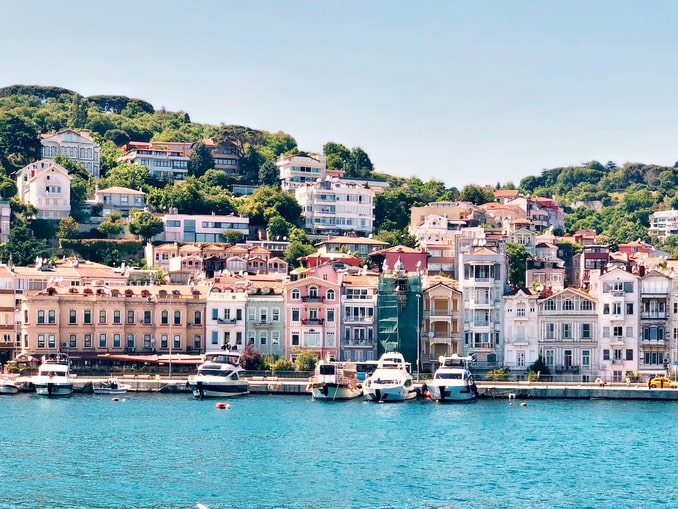 Despite the fact that in June, holidays in the seaside resorts of Turkey are preferable, we wouldn't discount the main metropolis of the country. Again, within the framework of one trip, you can easily combine a visit to Istanbul, for example, with a seaside vacation in Bodrum or Antalya.
After all, the impressions that you are guaranteed to get while walking along the streets of the former Constantinople can't be obtained in any other place. So you should put up with some possible inconveniences – June isn't the best time of the year to travel to Istanbul. Moreover – in our opinion – they aren't significant.
One has only to take into account that the weather in Istanbul in June tends to air temperatures of about +30 °C (86 °F) and above, and prepare accordingly. The prices in hotels in 2023 aren't too low – you can rent a hotel located near the city center only for 70-80 € for two people per day.
If this doesn't scare you and you are ready to take a risk of a hot weather, then we'll give a couple of recommendations
Where is Better to Stay
For example, inexpensive and at the same time well located (Beyoglu) GalataportWawhotel. It's not devoid of shortcomings, but – as indicated in the reviews – have advantages that offset them. In particular, staying here you won't have to complain about the indifference or disrespectful attitude of the staff. As well as spending too much time getting to the city center – you can walk to Istiklal Street in just 10 minutes.
Small rooms, but also an excellent location in the Fatih area distinguishes the Grand Rosa Hotel. From the doors of which you can get to the main attractions of Istanbul in a few minutes – the Grand Bazaar is about 100 meters from them. By the way – breakfasts in this hotel are included in the (rather modest) cost of accommodation.
Sea of Marmara Coast
A huge advantage of the resorts on the local coast is their territorial proximity to Istanbul. As a result, sitting too long on the beach somewhere in Mudanya or Erdek simply won't work.
Not because there are too many vacationers, but thanks to the presence in the seductive proximity the main Turkish metropolis. After all, even if you have seen the ex-Constantinople before, you are unlikely to refrain from another visit. As well there are many interesting places to visit near Istanbul.
The Marmara climate in June strongly resembles that in the Italy Riviera. Is that the air temperature is not inclined to fluctuate and is fairly stable in the range of +24-28 °C (75,2-85,4 °F). It's colder at night: +18-22 °C (64,4-71,6 °F).
Precipitation is rare and the chances of getting double rainy days are minimal. Not too often the sky is covered with clouds – on the contrary, sunny days are in the solid majority.
The sea doesn't warm up to a temperature at which everyone would call swimming a comfortable experience. But +21 °C (69,8 °F) – at the beginning of the month – and +24 °C (75,2 °F) at its end – a worthy indicator!
In general, this coast is good fit for a relaxing family holiday. With school-age kids, however, you can get bored – if your vacation lasts more than a week.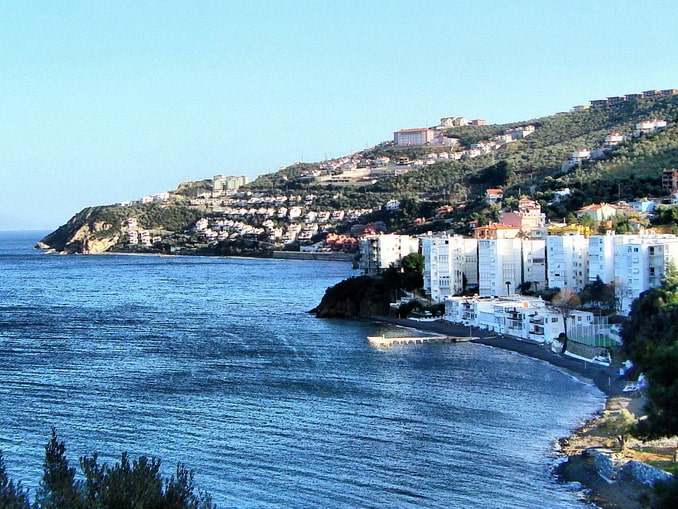 If we talk about
Holidays in Mudanya
then we recommend paying attention to the Armistis Hotel. Not particularly expensive, very cozy object, located next to the waterfront of the resort town.
If you exclude trips to Istanbul and Bursa, there is little entertainment on the coast of the Sea of ​​Marmara. We also mention the opportunity to see the ruins of Troy – they are located under the town of Canakkale. And a possible shore trip to Selcuk, next to which is what is left of the huge ancient policy of Ephesus.
Aegean Coast of Turkey in June
The well-ventilated coast, the presence of an impressive size of forests in the mountains surrounding Marmaris and Oludeniz, make holidays in the Turkish resorts of the Aegean Sea a pleasant experience even at the height of the summer season.
A sufficient number of British, German and French tourists already know about it, they are happy to flood the beaches on the western coast of Turkey in early June. While American tourists habitually choose more expensive seaside destinations in Italy or Greece.
We emphasize that at the beginning of summer the weather in Kuschadasi and Bodrum, Marmaris and Oludeniz is characterized by moderate air temperatures. And as a result, it's fit to any age categories of vacationers.
At first, the atmosphere warms up to +22-24 °C (71,6-75,2 °F). And up to +28-34 degrees Celsius (75,2-93,2 °F) – at the end of June.
During the day – at night it becomes noticeably cooler. In total from +18 °C (64,4 °F) to +22-25 °C (71,6-77 °F)!
Rains in the Aegean coast of Turkey in the beginning of summer are rare, humidity is negligible. Which will definitely please people who have problems with breathing and the cardiovascular system. As well as those traveling on vacation with small kids.
Not everyone will like and the local sea temperature – in June the water area warms up to a maximum of +24-25 °C (75,2-77 °F). Sometimes there are sudden cold snaps up to +18-21 °C (64,4-69,8 °F).
On the Internet you can find negative reviews about the June Marmaris. Concerning both the not ideal state of the coast, and the unbearable temperatures and the rather cool sea.
Oludeniz
differs from its colleagues on the Aegean coast in the almost complete absence of historical sights and the best conditions for swimming. The contingent of vacationers is predisposed to a contemplative pastime, and the sea here is perfectly clean!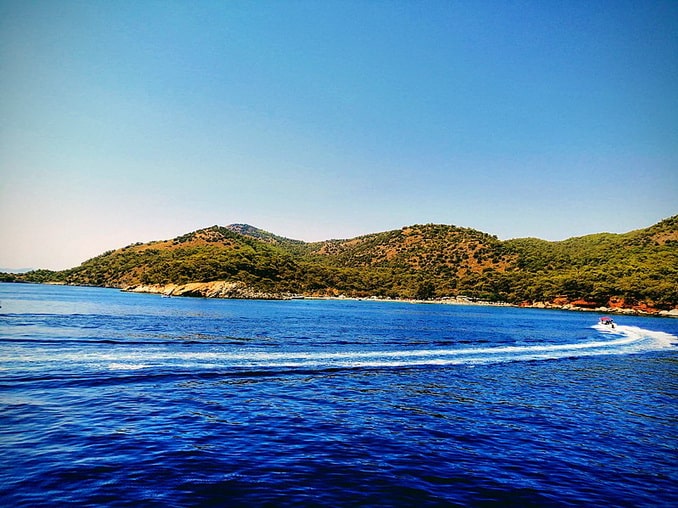 Note that all of the above applies to places such as the more northern resorts of Bodrum and Kusadasi. The only difference is that these places are chosen mainly by middle-aged sedate tourists and tourists of retirement age.
Favorite entertainment here: boat trips on yachts and paragliding. You can go on an excursion to the ruins of ancient Ephesus. Located just half an hour by car from Kudashasi, and 4 hours from Oludeniz.
Popular among tourists the trips to Pamukkale and Hierapolis (3.5-4 hours). Non-lazy travelers visit the cave cities and valleys of Cappadocia (from 10 hours). And the non-poor are asking the price of balloon flights.
However, keep in mind that such a long journey will require spending on hotels in Cappadocia. And they are not cheap in Göreme even at the beginning of summer!
Turkish Riviera
Antalya, Side, Alanya – this trio is responsible for at least 50 percent of tourists who in June choose holidays in Turkey. Indeed, according to long-term statistics, the local climate at the dawn of summer is literally beautiful – it is distinguished by an abundance of sunny days and is exceptionally well suited for swimming.
However, in reality, everything isn't as cloudless as, choking with delight, the sites of travel agencies tell. Because if at the beginning of the month the air temperatures keep themselves within decent limits (up to + 24-28 °C (75,2-82,4 °F)), then by the third decade they unbelt like a bully at a party.
Up to +40 degrees Celsius and even higher, thermometers record in the middle of the day. As a result, most vacationers are forced to enter the "morning-evening" swimming regime in order not to get a heat stroke.
The Mediterranean Sea
in early June is not warmed up to tropical temperatures: only up to + 22-24 °C (71,6-75,2). In addition, the water tends to cool down a bit at night.
But, the closer July, the warmer the water becomes. By the end of the first month of summer, the sea in Alanya warms up to + 26-27 °C (78,8-80,6 °F).
Rains are rare – once again we will say a common phrase for June Turkey. But there is still a chance to face 1-2 wet days. Humidity varies depending on the resort.
Antalya, Belek, Side are not adjacent to the mountains, and this has a beneficial effect on the sensations of vacationers.
But Kemer is not so favorable to its guests. And sometimes the local air hug the hot bodies of travelers as if with a damp towel. In the midday hours, these "tendernesses" are pretty annoying. True, you can take comfort in the knowledge that it will only get worse at the peak of the season.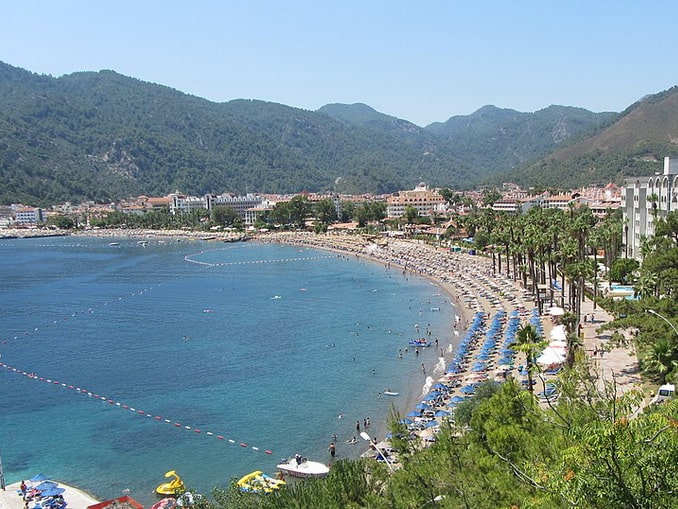 Vacation in Turkey in June with Kids
Depends on personal preference and documented opinion about the health of the younger generation. Since, as mentioned above, some places on the Turkish Riviera in June suggest that you must be a very health people if you are going on seaside vacation here.
Based on moderate climatic conditions, we will warmly recommend Kudashasi and Oludeniz, partly Bodrum. But, given the meager set of entertainment, it becomes clear – it's better to look for more. For example, in Marmaris there is a large water park, but reviews about it, to put it mildly, are contradictory.
In terms of opportunities for interesting pastime, Antalya is much better equipped. There is a big water and an amusement park, a large aquarium. The surroundings of the city can be explored on excursions – and the list of even inexpensive ones is extensive. Cruises on yachts and speed boats depart from the resort port.
There are places for diving and rafting nearby. To go hiking in the mountains, it is enough to drive 30 km from Antalya.
We also recommend at the beginning of summer visiting Alanya. And not only it – in the village of Avsallar there is an excellent sandy beach and a whole line of excellent, not too expensive hotels.
© Goodtimefortrip.com