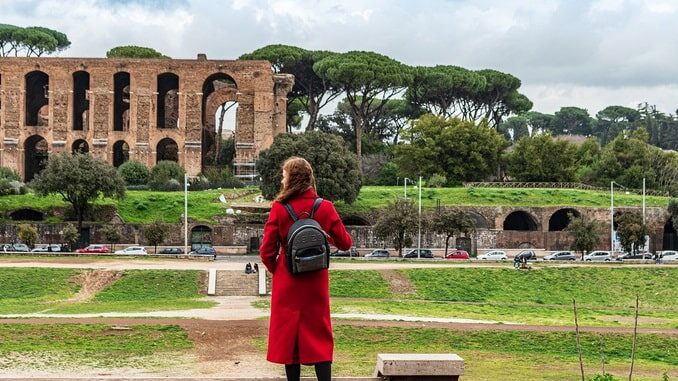 Rome in February 2024 – is it worth visiting? Weather, air temperature, what to wear, hotel and excursions prices. What to do in Rome in early February and at the end of winter, where to go – figured out good Time for Trip.
Somewhere, February is just the last month of winter. Abundant with snowdrifts higher than a person and frosts so severe that it's hard to breathe. However, at times giving a bit more sun than January and hope that it's just a little more to endure until bright spring enters life again.
But somewhere, there's no need to wait – the most optimistic and energetic time of the year is not "in prospect" but already here. And, surprisingly, these places are not in the tropics but in Europe.
Don't believe it? In vain – in Rome in February, it's quite warm and sunny, the grass is green, and the trees gradually begin to bloom.
Tourists ready to notice and appreciate all this are very few. At least they don't stand out, so you can pretend that they're not there at all!
Strolling at your leisure in Rome in mid-February when snowdrifts still lie in many European and American cities, and snowstorms roam the streets? Aimlessly wandering around the sunlit Colosseum, warming up on the stones of the ancient forum, wandering with a guide through the Vatican in a group where there will be no one but you, savoring delicious pizza in a "locals-only" tavern in Trastevere? Isn't the thought of such pastime enchanting?!
Especially since participating in such activities costs relatively little? That is, quite modest, compared to the months when it's "better to visit Rome".
Of course, we'll tell you about that too. But let's start our narrative by examining the more pressing and exciting question – what is the actual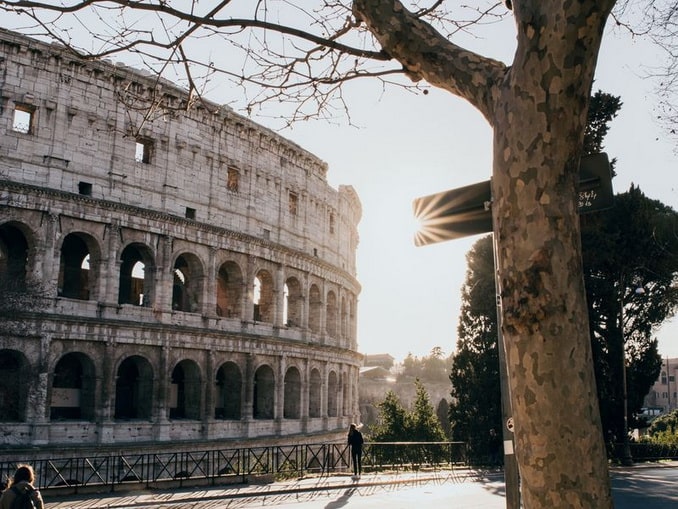 Weather in Rome in February
If you read the guidebooks, you might immediately give up the idea of a trip. After all, they often predict unimaginable difficulties that tourists will face, deciding to go to Rome during February.
Such as: extremely variable weather, constant damp cold, a high probability of precipitation. And other unpleasant events – if you put it all together, it might seem that it's better not to leave the room of your home or at least Roman hotel at this time. Even if you've thought ahead and stocked up on rubber boots, a raincoat, an umbrella, and perfectly warm windproof clothing.
However, reality usually turns out to be much better. So, in Rome even in early February, it's not only not cold but even quite optimistic. In particular, compared to January, the ancient city much more often sees bright sunlight and a blue sky.
Air temperatures are usually such that, by all indications, spring has arrived. In early February 2023 in Rome, for example, street thermometers showed +13-15 °C (55.4-59 °F) for several days. And later, after a brief drop below +10 °C (50 °F), they moved back to the range of +12-14 °C (53.6-57.2 °F).
Unambiguously indicating that winter is behind. And you can plan and implement long walks through the "Eternal City" in practice. Without worrying too much about colliding with other weather-charmed tourists or about overly warm jackets.
Nights in February in Rome are, of course, noticeably colder. But not to the extent, say, in Stockholm or New York – below +3-5 °C (37.4-41 °F) the atmosphere tries not to cool down. As a result, you're unlikely to find snow anywhere. Even if it falls at this time of the year (a very rare event here), it melts in less than an hour.
Precipitation
Sunny or at least not rainy days – plenty! And the average monthly precipitation norm in Rome through February rarely exceeds 50 mm. The winds also don't try to snatch hats off people's heads – their gusts almost never reach speeds above 25-30 km/h.
The duration of daylight increases from 10 hours in the beginning of February to just over 11 closer to March. And nature, without waiting for any other signal, begins to bloom and unfold. At first, a bit shyly, but by the end of the month, it gets more and more into the swing of things!

What to Wear
Prudent or simply experienced people planning to visit Rome in February will undoubtedly bring some warm clothing with them. Both during walks around the city and in the hotel room, the hosts of which are not always so hospitable as to heat the rooms to comfortable temperatures.
It's quite natural that quilted jackets, warming vests, and other ammunition that may weigh a bit but will allow you not to worry about how much time you can spend outdoors, can come in handy.
Footwear should, on the one hand, be such that you cannot get your feet wet even if you want to. But at the same time, it shouldn't make you sweat.
Again, don't forget that the weather in winter Rome is not so calm. So, during your visit, it may decide, seemingly on purpose, to do something like freezing rain turning into wet snow.
What to Do in Rome in February
Tourist attractions, or in simpler terms – the main attractions of Rome – are quite well known. And in February, you should use any opportunity to visit all the truly worthwhile locations. Even inside the Roman Forum and on the Spanish Steps, flooded with curious visitors at spring and summer, at the end of winter, there will be a lot of space for meditation and selfies.
Almost certainly, you will spend a couple of hours inside St. Peter's Basilica and on its square, adorned with Bernini's colonnade and magnificent fountains. Visit the Vatican and, perhaps, tour the Pope's residence: the Apostolic Palace with the Sistine Chapel and the Borgia Apartments. Look at the "Eternal City" from the walls of Castel Sant'Angelo.
Regardless of the time of year you go travel to Rome, it's worth stopping by the Pantheon and visiting Piazza Navona, a square captured in many films. So as through the staircase consecrated by the genius of Michelangelo to climb to the top of Capitoline Hill, where the church of Santa Maria in Aracoeli with beautiful interiors resides.
A visit to the Borghese Gallery is definitely worth it; it's quite challenging to get there during the season due to an incredible influx of curious visitors. At least a half-hour tour of the surrounding gardens is also deserving!
We also recommend that you definitely visit the authentic district of Rome, Trastevere, in February. Filled with beautiful houses and taverns where you can try the most delicious dishes of authentic Italian cuisine.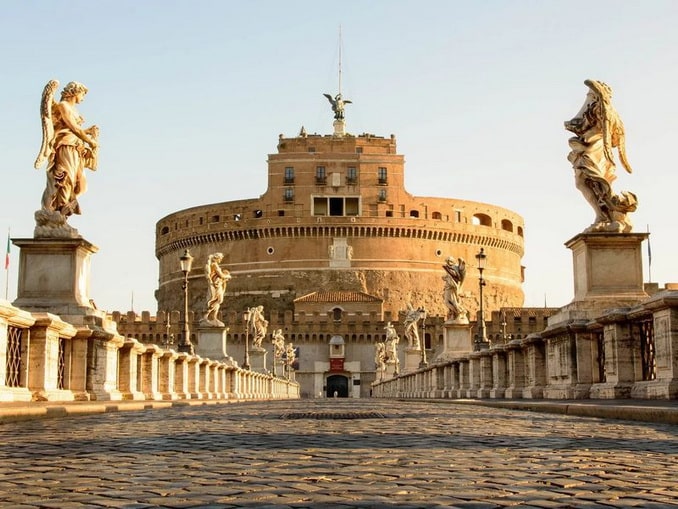 Prices
Despite the obvious off-season in Rome during the whole February, finding anything cheaper than €80 per night, and even that only on sale, is unlikely. If, of course, you want to live in comfort and not constantly curse the lack of amenities.
Take, for example, White Flat Termini near the famous train station and – naturally – the metro station. Its usual price in the high season is a couple of hundred euros per night, but at the end of winter, you can rent a conveniently located living space with a "kind" host much cheaper.
Accommodation in the Colosseum Guest House costs about the same. Despite the name, it is located at a noticeable distance from the famous attraction (15-20 minutes on foot), but easily attracts lodgers during the tourist season.
No wonder – the rooms are impeccably clean. And the Rome metro station opposite the guest house turns the process of moving around the big city into an easy and interesting activity.
And this is important – in February, so many opportunities open up that it would be a pity to miss them! Again, the cost of (live) guided tours of the city drops to a minimum – for just 30-35 € , you can get acquainted with the main attractions of the Italian capital. And for 35-45 € , take part in a (very small) group tour of the Vatican Museums.
© Goodtimefortrip.com