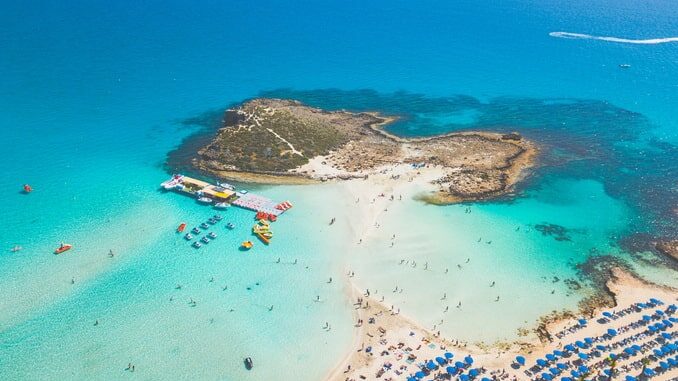 Cyprus in June 2023 – what is the best place for vacation? Weather and water temperature in Ayia Napa and Paphos, Protaras, Limassol and Larnaca, prices in hotels and on excursions. What to do in Cyprus during June, what to see on your own or with a tour – in the material of good Time for Trip.
The island of Cyprus, mainly, of course, its Greek-speaking part, is a popular and highly valued destination for a beach holiday. At least among British tourists who have loved visiting this place in the eastern Mediterranean for decades.
As a result, today the island creates strong competition not only for Greece and Spain, but even for Turkey. Still – the small country is a member of the European Union, it makes payments in euros, but prices are literally all lower here. As for the local climate, it's so good that the swimming season lasts here about six months.
However, the best time to travel to Cyprus is better to choose. Since resting here is far from every month of the year can be called a uniquely positive event. Indeed, at the peak of summer and even in September, the sun heats up the local coast to ultra-high temperatures.
What is the climate of Cyprus in June? Are holiday-makers at this time constantly kept in the shade, consuming decalitres of soft drinks near the hotel pool? Or can they also swim in the sea and sunbathe on the beach, while at times also taking inspiring outings to the TOP Cypriot attractions?
We tried to figure it out! Along the way, having studied the prices and opportunities that open up for citizens who come here for holiday at the beginning of summer.
Weather in Cyprus in June
Still allows you to do a lot. Although the air temperature in some resorts is firmly stuck at levels above +30 °C, a small amount of precipitation and optimal humidity make the period well tolerated even by gentle categories of vacationers.
Literally scorched nature and land in Cyprus become at the end of June. Before that you can enjoy moderate heat, cloudless skies and light breezes from the Mediterranean Sea. Pleasantly cooling overheated skin…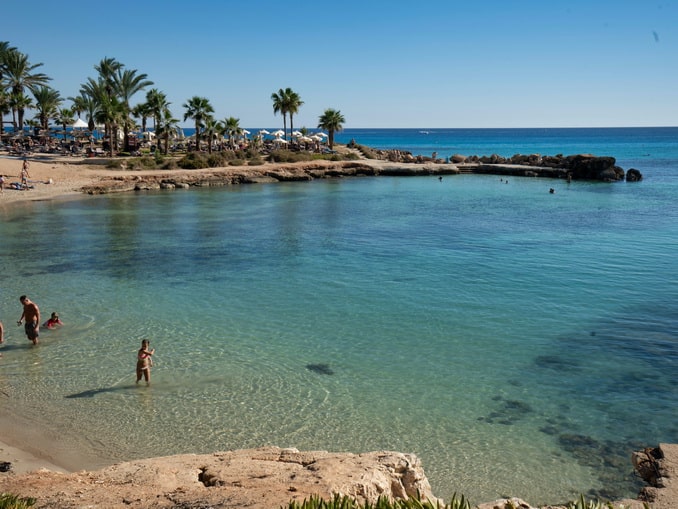 In early June 2022, Cyprus, for example, saw warm but not too hot weather almost everywhere. And by the middle of the month there were no critical changes.
For example, in Paphos in June, the air temperature during the day was in the range of + 26-30 degrees Celsius. And haven't done even a single attempt to leave it.
At the same time, it became cooler at night. But just enough so that vacationers can take a breath and relax after a hot day, and not freeze – up to +21-23 °C.
It is curious that the nature of the weather in June in Ayia Napa and Protaras turned out to be similar. Temperatures from +25 to +30 °C were regularly recorded there throughout the first month of summer. Although usually on the east coast of Cyprus – in June or in other months – it's slightly warmer than in the west one.
The probability of a sunny day reached almost 100%. Nowhere, not excluding the mountainous regions, not even a tear of rain fell during the month. Which, in general, is atypical – at least once in June it rains in Cyprus.
The winds are weak, their gusts are just enough to cool a little in the midst of another clear day. But the excitement at sea during this period happens infrequently.
Water Temperature
By the beginning of June, the sea in Cyprus usually warms up to + 22-23 °C in Limassol and Larnaca, up to + 24 °C in Ayia Napa and Paphos. Toward the end of the month, there is every reason to expect that temperature of sea will conquer the bar of + 26-27 °C. And near the beaches of Ayia Napa, in the shallows, the water area will even warm up to +28-29 °C.
So you can swim in Cyprus even in early June right from the morning – that's how you got up and go. Since then, after breakfast, by 10-11 o'clock, the local sun will heat up the air to temperatures incompatible with sunburn. Even those who have prudently smeared themselves with sunscreen can get a skin burn.
Prices 2023
This year, you should not count on cheapness – the tourism sector is rapidly awakening after the coronavirus pandemic, and demand sometimes outstrips supply. So if you will find something for 60-80 € for two people per day, go for it – it's a bargain!
For example, this is how much Millie's Apartments in Ayia Napa cost. It's located, of course, not near the beach, but has the qualities for which the guests from Booking awarded it with an aggregate rating of 9.7. In June, you can rent a 25 m2 room there for less than 70 € per day.
In Paphos, interestingly, you can rent a flat even cheaper. If you agree to settle away from the coastline – which, given the elevated terrain, can cause significant inconvenience. Unless, of course, you have rented a car and can afford to drive rather than walk to the sea.
In Paphos, we advise you to pay attention to Valentina Apartments 15 minutes from the beaches. Reviews indicate that the listed guest house "exceeds expectations" and is "a good place to stay". For – let's add – well, a very nice price!
For our part, we would also highlight such an expensive, but obviously great possibility as as renting the Horizon Stylish Villa in Protaras Complex. This option costs from 150 € per day for two, but the quite high price is justified – you get at temporary disposal a whole house with 2 bedrooms, a terrace, parking and a swimming pool. In addition, the villa is located a hundred meters from the sea!
Cars & Excursions
Car rental in Cyprus at the beginning of summer can't be attributed to expensive pleasures – a day of rent will cost 25-27 € per day.
You just need to remember that on the island, traffic, like the UK, is left-handed. And they sit behind the wheel on the right side of the car – Americans and most European drivers will have to adapt. In the reviews, however, they write that addiction occurs quickly – you relearn literally in a day!
Not especially expensive on the island and excursions to local remarkable places. For example, for participation in a cruise from Paphos to the world-famous Blue Lagoon, you will have to pay about 30 €. And about 50 € will cost an 8-hour tour to the most interesting villages and waterfalls located in the depths of the Troodos mountain range.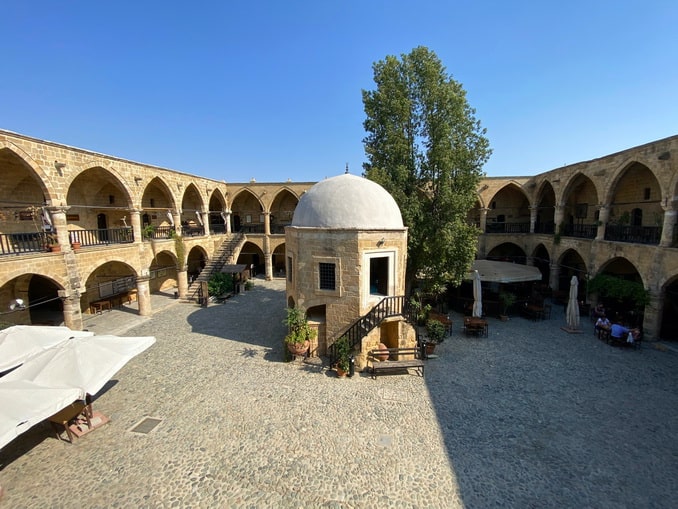 What to Do
Going to Cyprus just to relax on the beach is no longer fashionable. After all, what will you show your friends and family when you return?
The surf line, the foaming sea, the happy faces of the swimmers? Obviously, all this can't convey the full attractiveness of such a trip.
So in Cyprus, especially in June, you should not sit still. Since it is simply unreasonable – here you can visit places not just breathing history, but completely unique.
Moreover, the distances don't shock a person who is determined to rent a car in Cyprus. After all, Ayia Napa, located almost in the very west of the island, to eastern Paphos is only 180 km along the highway.
To Larnaca from it – only 60. And 115 km – to Limassol!
It is obvious that such distances are covered by a maximum of 3 hours by car.
Where to Go
What should you see in Cyprus first? In our opinion, it is worth starting with the Archaeological Park in Paphos. Continue with a visit to the Akamas National Park with the Blue Lagoon. And then pay a visit to the Kykkos Monastery and a couple of authentic mountain villages.
Almost every tourist visiting the island will want to stroll through the old quarters of Limassol. Few travelers plan to visit Nicosia, although in summer this city becomes the hottest place in Cyprus.
The unique attraction of the island is the Aphrodite's Rock, near which, according to legend, the Greek goddess of love herself came ashore. Definitely worth a visit is Cape Greco, famous for its beautiful limestone arches in the layered coastal cliffs. Very good and diving in local waters.
By the way, divers vacationing in Cyprus should definitely dive to the sunken Zenobia ferry near Larnaca. Lovers of ancient antiquities will not miss the chance to see the ruins of Kourion and Amathus.
Vacationers in Cyprus with children will certainly want to visit local water parks.
A large theme park Water World Waterpark with attractions reminiscent of Ancient Greece operates in Ayia Napa. The cost of entertainment is lower than in Western Europe – you will €45 for adults and €27 for kids (3-12) tickets.
Fasouri Watermania in Limassol is considered the largest aquapark in Cyprus. Has its own water park and Paphos!
© Goodtimefortrip.com