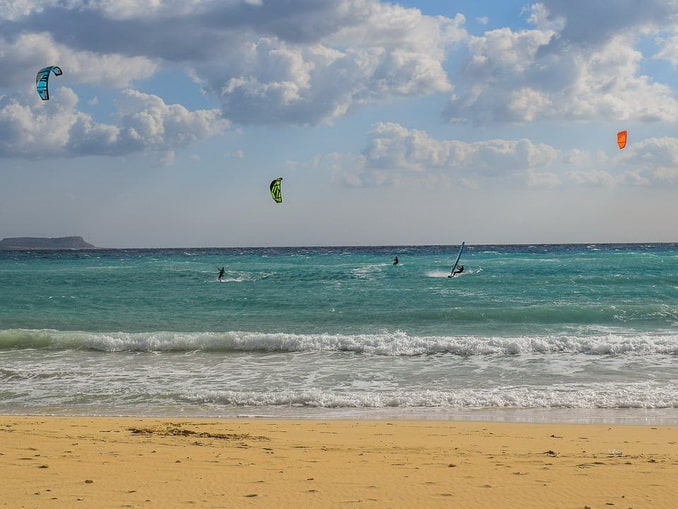 Cyprus in January and February 2024: is it worth visiting? Weather, sea temperature in Larnaca and Paphos, prices in hotels and on excursions. What to wear, is it possible to swim?  Is it worth celebrating the New Year in Cyprus, what to do and to see – found out good Time for Trip.
Surprisingly, Cyprus, an island located in the warmest, eastern part of the Mediterranean, has never positioned itself as a year-round destination. While resorts that are located much more northern, including those in Europe, emphasize their versatility in every possible way and invite you to come both in summer and in winter, this small piece of earth is content with only 5-6 months of the high season.
And it doesn't seem to want more. In any case, in winter, Cyprus does not actively call anyone. More preferring to rest from the tourist crowds than to earn on them.
According to all the laws of marketing, such a position doesn't contribute to high demand. And judging by the available reviews, it is actually absent – even in early January, Cyprus sees very rare tourists.
Only those who are naturally curious, come here to celebrate the New Year!
Is such an act justified from an economic and other points of view? Should you pay attention to more popular and familiar destinations? Or is it enough just to shift the vacation on Cyprus to March? If not even later?
We have studied all the nuances, having explored both climatic features and opportunities for a boring pastime. And came to quite unexpected conclusions!
Weather in Cyprus in January
From a local point of view, absolutely disgusting. Damp, dank, with a lot of rain and such cold that you don't even want to stick your nose out into the street.
But by the standards of (the majority) of European tourists, and American ones, for sure, too, the weather conditions in Cyprus in early January are very nice. After all, the air temperature during the day reluctantly crawls out of the corridor +17-21 °C (62.5-69.8 °F). And at night it tends to +15 (59 °F) more than to +10-12 °C (51-54.6 °F).
It can rain quite heavily on 3-4 days a month. But almost never – without a break. One wet day – 4-5 sunny or slightly cloudy ones.
You will agree to such weather if you go on vacation in the middle of winter and not to the tropics?!
Moreover, given the duration of the trip (usually no more than 5-7 days), the chances of encountering bad weather in Cyprus in January and February are small – it's still a very sunny island. And it does not particularly change habits even during the off-season.
Winds
in January are strong – according to the Cypriots themselves. But German and British holiday-goers, willingly vacationing on the North Sea coast, are unlikely to complain.
In fact: today it is blowing strongly, and tomorrow you can not button up your jacket! And besides, if the sea is cold, is this a reason to go to the mountains?! And visit a couple of the cutest-looking mountain villages like Kakopetria or Pedoulas.
Not only them, of course. After all, there are many interesting places in Cyprus!
Closer to February, it usually gets a little colder: up to +15-17 °C (59-62.6 °F) during the day. And only about +10-12 °C (51-54.6 °F) at night.
But the sun is getting even a little more. And the duration of daylight hours by the end of the month exceeds 10 hours!
Ha-ha-ha – those who came to spend their vacation in Cyprus in April or later will say. But believe us, for the end of winter these are very decent numbers!
Sea
The water temperature near the coast ranges from +18-20 °C (64.4-68 °F). And on the Web you can find reviews that some even swam in Cyprus in January. Note, with the aim of having fun, not because of the desire to shock others!
It's not a lie, not at all. Due to the shallow depths in the same Ayia Napa, you can plunge in winter without the risk of freezing and getting sick.
Realizing at the same time their exclusivity and even chosenness. As there will be no one around!
It is completely unnecessary to talk about the reaction of local residents to such extravagant acts of vacationers. Moreover, the Cypriots in the middle of winter do not flank the coast too actively – it's too cold for them there.
But in general, tourists during this period try not to waste time deciding whether it is cold to swim. They do it easier and check into a hotel or apartment with a heated pool.
Pay attention, for example, to the inexpensive Carmencita Studio B14 with pool & gym (which has everything and even heated floors!).
Most, however, do not worry about this at all. Initially deciding that they came here for something else, not swimming.
Cyprus in February
In general, observes similar weather. May be one degree on average colder: +16-18 °C (64.4-68 °F). But on the other hand, in February here it is less cloudy – the sun often gives people its light.
The wind blows no weaker than in January. And at night, the air temperature can drop to +10 °C (50 °F) and below.
It doesn't happen every year. And the duration of such cold periods rarely exceeds 2-3 days.
Whether you agree to such an alignment or cautiously decide to wait at least until spring is a purely individual matter. But most do not seem to trust local meteorological statistics. And therefore it is rather difficult to meet a tourist in Cyprus in February, either in Limassol or Paphos.
What to Wear
The same thing you would wear in London in the middle of May. That is, in the usual not very insulated demi-season clothing.
A light quilted jacket, a pullover or a sweatshirt that is warm in case of visits to the mountains, comfortable, but not particularly warm shoes. Approximately this is the usual wardrobe of foreigners who have decided visit Cyprus both in January or in February.
Gloves? It is unlikely that they will be needed – unless you are on skis
A hat is definitely worth taking for children and those who do not like coolness. Scarves also have a good chance of coming in handy – winter winds in Cyprus are sometimes very harsh.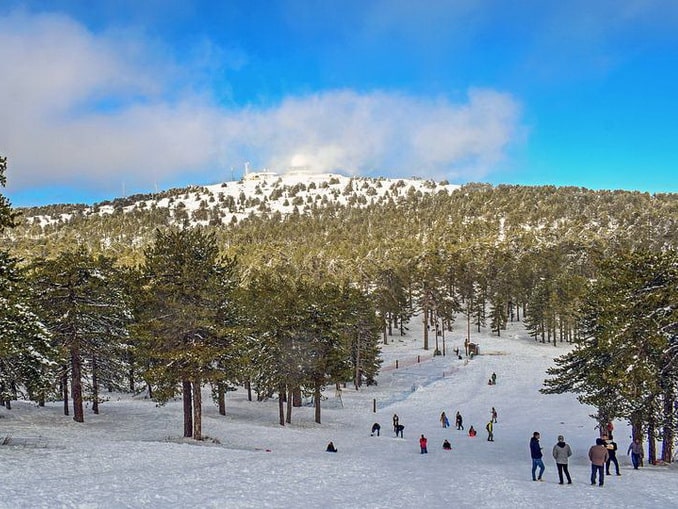 Prices 2024
Those who intend to settle in a modern, well-maintained hotel with a swimming pool somewhere in Limassol should count on a price of 70-80 € per night.
But if you are able to give up the habit of swimming every day, you can find a cheaper hotel or apartment.
In the same Limassol – this resort is actually the optimal location for those who visit Cyprus in the winter months – we recommend looking towards Elenas 1 Bedroom Apartment. A spacious apartment in fact in the very center for only about 50 € per night for two!
Something inexpensive but good you can find also in Paphos.
Pay attention to Pari Holiday Studio. It might not be the center, but according to the sum of the reviews, it deserved an excellent (9.4) rating. Lovely family run aparthotel in a quiet location!
What to Do in Cyprus in January or February
Anyone who believes that there are few attractions in Cyprus, probably just rarely left the coast. Or even get out of the boundaries of the selected resort.
For there are many interesting places on the island. And far from all of them have even hit the pages of guidebooks.
Every year someone discovers a new village "lost" in the mountains. Living according to centuries-old ways and not knowing that one can pump money from this fact alone.
Basically, rent a car and drive. Moreover, in winter the price for a car rental in Cyprus drops dramatically.
20-22 € per day for a Toyota Yaris or Nissan Note… It's not much, right?!
Excursions in the off-season are getting cheaper somehow slightly. Which is actually surprising, given the lack of demand in this time.
For example, an 8-hour trip through the mountains and valleys of the Troodos massif will cost 45 €. And the same is the cost of an introductory walk through the streets of Larnaca and Nicosia. As well as a trip to the famous village of Lefkara.
Of the must-see places, we mention the ruins of Kourion near Limassol, a polis founded by the Greeks around the time of the Trojan War.
You should personally see the Aphrodite's Rock. Near which, according to legend, the Greek goddess of love herself appeared on the shore "from the foam of the sea".
Do not lose sight of the Archaeological Park of Paphos, where amazingly beautiful mosaics from the Roman period have been preserved. And the most ancient part of this resort, Ktima, which has preserved the ancient way of life.
Troodos
Well known outside of Cyprus, Kykkos Monastery is open daily even in January and February. At one time, this place earned the attention of the Byzantine emperors!
The Blue Lagoon in Akamas Park beckons with its turquoise water. And in winter almost deserted shores…
Worthy of visiting are the authentic mountain villages: Pedoulas and Mutulas, Kakopetria, Platres. Next to the latter is located the picturesque and full-flowing Millomeris waterfall.
In the Troodos mountains you can visit a real ski resort. It is deployed on the slopes of the local Mount Olympus (~ 2 km high). In the period from January to March, they are usually thoroughly covered with a snow blanket.
There is a rental of ski equipment, so you should not drag a snowboard with you. In the nearby village of Troodos, you can buy warm clothes or have a hearty meal in a restaurant.
© Goodtimefortrip.com