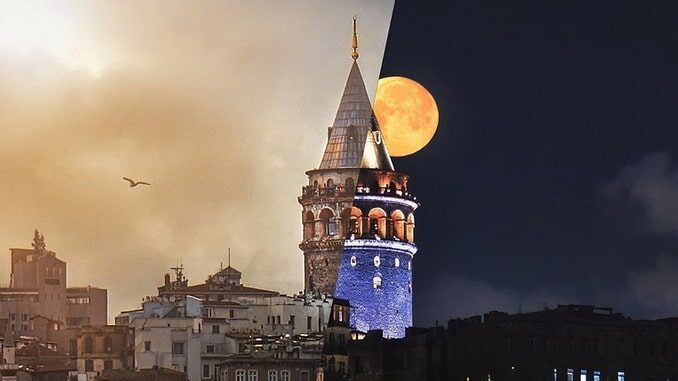 Turkey in April – is it worth going? And where is it better to spend a holiday? Weather, whether it is possible to swim, prices 2023 in hotels and on tours. What to do in Turkey at the beginning and end of April, what to see – in a big review by good Time for Trip.
There is no doubt that from the point of view of a beach holiday, April is not the best month to visit Turkey. Therefore, it's not too popular among travelers in a hurry to sunbathe and swim.
But there is another category of tourists, which is becoming more numerous every new year. And this people often know that in April Turkey looks like a treasure box. To open which, in addition, is going a very small number of enthusiasts.
Those who have already learned from reviews or in practice that the cost of a holiday in Turkey in early April is very low. And this applies to everything!
Not only flights, but also hotels are very cheap. As well as excursions and tours, car rental. Yes, even on handmade souvenirs in Turkey at this time you can get a substantial discount.
Reasons
The weather is not only in seaside locations, but even in Cappadocia in April is very pleasant. Of course, it will not be particularly hot and sometimes you will want to wear a jacket or a pullover. But all the same, you are almost guaranteed to get a lot of positive emotions.
On the Turkish Riviera, in Kemer and Alanya, Antalya in April it is already warm to such an extent that you can to swim. There will also be an abundance of inexpensive hotels and so few vacationers that you won't have to complain about prices, crowding and lack of space.
Even if you decide to meet in Turkey Easter – in 2023 it is celebrated on April 9
For our part, we decided to put together all the facts about the weather and prices, as well as available entertainments. Accompanying this information with conclusions drawn from the personal experience!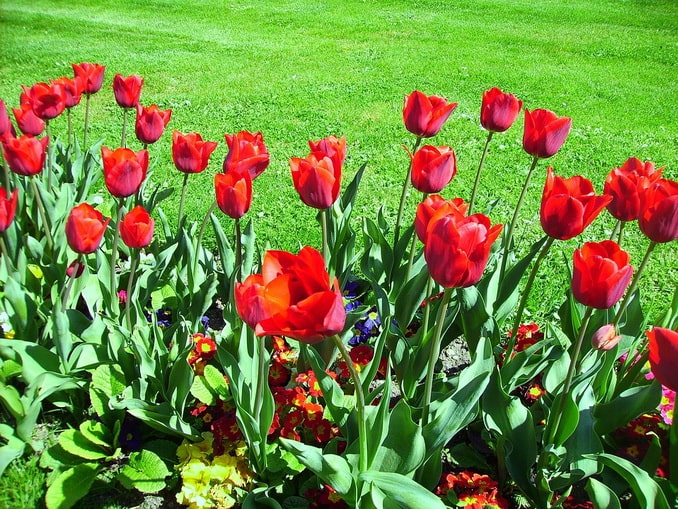 Best Places in Turkey in April
We will not give universal advices on this matter – everyone should start from their own preferences. But we will provide some, as it seems to us, useful tips. Naturally, subjective!
Istanbul
Decorated with flourishing "carpets" of tulips, the main Turkish metropolis put itself in the first place of our rating! Because by all criteria, Istanbul blooming in spring like a bud should attract the attention of any potential tourist. Which is going to visit Turkey in April and being able to consciously abandon beaches and swimming.
In general, it looks like a small sacrifice – the readings of street thermometers on the shores of the Bosphorus in mid-spring, if they yield to those in Bodrum or Kemer, then not much.
Again, travelers go here mainly to see famous sights of Istanbul , take a long walk through the streets and squares, take cruises along the Bosphorus. And for all this, the air temperature above +25 °C does not fit very well.
One way or another, in the first half of the April in Istanbul you can count on +15-17 °C. And on about +20-22 °C – in the second one. As well as for a sufficient number of clear days, which will allow you to plan and implement an extensive program of excursions around the old city.
Prices
For a hotel, if you decide to stay in the Fatih area, you will have to pay from 50-55 € per day. Of the decent inexpensive and at the same time high-quality options, we will single out the Old City Apart Hotel. Located though not near Sultanahmet Square, but less than a kilometer from it.
Praised in reviews and situated in a quiet area near the old center Sultans Hotel. Special praise is given to the constant cleanliness in the rooms. Most people are not inclined to consider a 15-minute walk to the Topkapi Palace and Hagia Sophia an inconvenience.
Authors of this article once really enjoyed staying at Tilas – Rooms in 19th Century Wooden Townhouse. Located in the authentic Kadikoy district on the Asian shore of the Bosphorus and therefore immediately immersing travelers in the past of Turkey. The noise from the street did not interfere at all, the attitude of the staff deserves the highest ratings!
Cappadocia
This Turkish region haven't its own sea coast, but doesn't suffer from this at all. For bizarre natural landscapes, as well as temples dug in abundance in limestone rocks and entire cave cities can compensate for any lack of positive impressions.
First of all, tourists, of course, intend to fly in a hot air balloon – exploring the valleys of Cappadocia from a height in recent years has turned into a kind of "dress code". And only then they begin to explore the region they saw from above, with cars and walking tours.
Moreover, the climate of Cappadocia in April contributes to this. During the day, the air temperature fluctuates between + 12-22 degrees Celsius. At night it can get colder to +2-5 °C, but usually the air doesn't cool down below +8-10 °C.
Sunny days come in a pleasant succession, rains are rare.
The winds, sometimes very unpleasant in Cappadocia in January and February, calm down by mid-spring. And they make very minimal adjustments to the balloon flight schedule.
Prices
True, in the middle of spring you won't get serious discounts in Cappadocian hotels. So if you find an offer in the range of 50-55 € per night, just know – this is a good price, providing a virtually central location and a high level of service.
We recommend Elite Cave Suites, a cave hotel personally tested, offering significant discounts to Genius-guests. And deserving a lot of flattering reviews for a variety of reasons!
From the well-functioning heating to the views. One review, for example, claims that tourists can shake hands those flying in balloon baskets without leaving their room.
Frankly not bad and Vintage Cave House Hotel. Earned a rating of 9.4 in the Booking system, but still holding very attractive prices.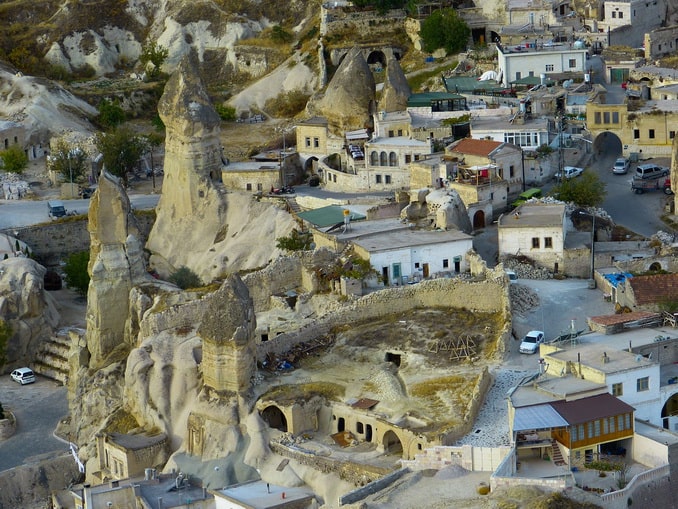 Antalya
We have already mentioned above that in this location in the middle of spring you can count on fairly high air temperatures and a low probability of precipitation. Which naturally puts Antalya at the top of the list of Turkey's best places to visit in April.
Already in the first decade of the month, the air temperature in the resort easily overcomes the level of +20 °C. And often reaches + 22-23 °C! Closer to May, few local residents will be surprised when the atmosphere warms up to actual summer values of +27-28 °C.
Nights throughout the month will be noticeably colder, from +10-12 to +18 °C, but foreigners in Antalya rarely walk after sunset. So, they will watch the sun fall behind the mountains, make some noise in the restaurant while tasting the original Turkish cuisine, and sleep.
After all, the next day will start early – at the end of April right after 6 am – and before swimming you will have time to visit some interesting places in Antalya. Yes, you heard right, in the middle of spring it is already customary to take sea baths here.
Not every year, of course. But the high probability that you can swim and not freeze at the same time is not so small!
By the way,
About The Overnight Stay
If you can afford not to save too much, but at the same time count the money, feel free to choose Adalya Port Hotel. Excellent location and superb views – exactly what you need for a holiday in Turkey in mid-April.
This time it rains in Antalya infrequently, rainy days usually last 2-3 days at the most. As a result, the sun has enough opportunities to burn your skin on the first day of your stay. Take this point into account and be sure to take sunscreen and other useful things on the seashore with you.
Things to Do
A trip to Antalya in the middle of spring looks especially promising, given that there are more opportunities for outdoor activities here than in Istanbul. There is no reason to go in cycles in exploring the old city, because in the vicinity you can visit the ancient ruins in Perge and Aspendos, Side. Climb the top of Tahtala. Or see Termessos, which has not yet been touched by the hands of archaeologists.
What about rafting in the Köprülü Canyon? On a bright spring day, such entertainment can become an adornment of the entire trip.
We also recommend going on an excursion to Demre and Myra. Citizens who don't like to sit still, will certainly go to Pamukkale.
Or even take a two-day trip to Cappadocia. Which, as mentioned above, is just amazingly good at this time!
Bodrum
In terms of climate, it differs little from Antalya, with which it is often compared. Usually, though, it's a degree or two cooler here. But on the other hand, it's drier – the surrounding area is well ventilated by seaside breezes.
There are also some attractions in Bodrum in an amount that allows you not to get bored for 2-3 days!
It is useful to study, for example, the history of the legendary Halicarnassus Mausoleum, which is now a ruin. Then visit St. Peter's Castle in the port of Bodrum and the museum there, take a long walk through the charming streets built up with low-rise buildings. Inhaling such pleasant aromas of the sea and the coming spring…
Again, from Bodrum, it's easy to go to Dalyan to visit the Turtle Beach, which are deserted at that time. Many people travel from here to Ephesus, almost every first tourist decides to purchase an excursion to Pamukkale. For a banal reason – during this period of the year, "The Cotton Castle" sees relatively small groups of travelers.
Once in Bodrum in April, you can rent a hotel room at a reasonable price. In merih butik hotel, modest, but "nice and cozy", you will occupy a room for only 50 € per day.
And its also perfectly locked "colleague" Bodrum Boutique Rooms will offer a slightly more spacious number for 60 €. But it will easily give a discount to those customers who have earned themselves some kind of Genius-status.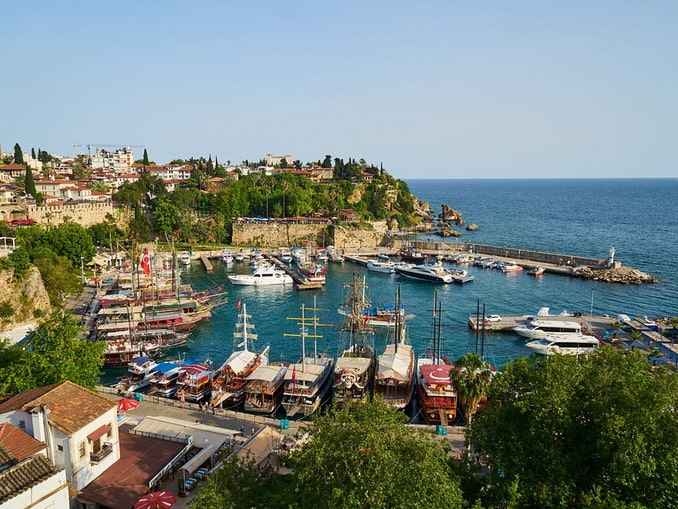 Oludeniz
The warmest and most picturesque place on the Turkish shore of the Mediterranean Sea, rightly attracting the attention of mainly vacationers from the UK and Germany. The local Blue Lagoon is supposed to be seen at least once in a lifetime.
In April, it is quite possible to swim – the water warms up to +20 °C long before the onset of May. But the Mediterranean Sea, lying on the other side of the sand spit, is much colder – the temperature of the water area does not exceed +18°C even in the best years.
It is necessary to book accommodation in Oludeniz for the season a few months before the trip. But in April there will always be free and inexpensive rooms.
We recommend Tonoz Beach Hotel, located very close to the beaches and having its own swimming pool. Moreover, in winter it's generous with discounts reaching up to 10-15% of the cost of accommodation.
Marmaris
This resort enjoys particular popularity among the citizens of Turkey themselves. Those, who sincerely believe that for the clean air, mild, not humid climate, and picturesque views of Marmaris, you can forgive the virtually complete absence of attractions. And not even perfect cleanliness on beaches and city streets.
The air in Marmaris warms up to commendable +16-18 °C in early April. And at the end of the month, thermometers begin to look closely at +28-30 °C.
Rains are rare, winds are not very strong, sunny days are noticeably more than cloudy. But the sea warms up reluctantly because of cold nights. So if you are determined to swim mentally, get ready to do it in the water area with temperatures up to + 18 °C.
Prices in hotels do not soar in the sky, because the demand is still insignificant. And therefore, for relatively little money, you will find quite pleasant option of very good quality. And even with a swimming pool!
Like a modest Defne & Zevkim Hotel, which meanwhile deserved excellent reviews from guests. In particular, thanks to the breakfast included in the price of a (small) room.
Kas
The small Turkish town of Kas has not yet managed to become a real beach hit. But it has literally all the qualities to turn into one of the "hottest" tourist destinations in Turkey. Including in April!
After all, it will be guaranteed to be light, warm, but not yet hot. And in the last decade of the month, the temperature of the air and water will already allow swimming. After all, the first sometimes rises to +27 °C, and the second reaches +20 °C.
The famous Kaputas Beach and the dimensionless Patara are the main attractions nearby. You can easily get to Kekova Island, which is so popular to take excursions from Antalya. And even to reach Demre and Myra, which are less than 50 km away by highway.
Can we recommend where to stay in Kasha? One of the editors of our portal spent a vacation with her family in Luna Kaş. And since then she has been dreaming of returning there!
In April, the cost of accommodation in this apart-hotel with magnificent views on sea starts from 45 € for two!
Alanya
In April, you can also come to the southern resort city of Turkey, which is somewhat less expensive in comparison with Antalya! After all, nature also blooms here in full force, spreading incredible freshness and energy around.
Naturally, this has a beneficial effect on the mood and health of vacationers who ventured here at this time. With one, but significant exception – allergy sufferers should weigh the pros and cons. Because it is simply impossible to hide from pollen from plants growing everywhere.
The air temperature in Alanya in early April, as in Antalya, regularly stays in the range of +18-20 degrees Celsius. And closer to May, it confidently moves over the level of +23 reach Demre and Mira.
Which naturally contributes to the warming of the water area. And it encourages people who are located on the endless beaches – they begin to swim here no later than the middle of spring.
However, it will not work to do this every day – the weather likes to be capricious. This does not last long, and there is no need to sprinkle ashes on your head. It is better to plan a decent entertainment for this time together with the local weather forecast site.
Since there are at least a dozen places, that you just have to visit in Alanya. And at least the same number is located in the vicinity of this resort town.
© Goodtimefortrip.com